Special Cases
Grand Banker Golden Hour 12 Litre Special
Just $159.99 ~ Regularly $172
This case features four of our varietal-focussed wines in their 3L eco-bag format. Our Cabernet Sauvignon, Shiraz Cabernet, Sauvignon Blanc, and Pinot Grigio are exceptional wines now at an even more exceptional value.
Cabernet Sauvignon
Considered the king of grape varieties, Cabernet Sauvignon expresses itself as a classic deep coloured red wine where both aromas and flavours of black fruits, plums and currant mingle together to give a satisfying richness. Its firm structure and full flavour pair well with roast beef, grilled meats and bold, aged cheeses.
13% alc./vol
Grand Banker Cabernet Sauvignon 3L
Grand Banker Cabernet Sauvignon 750ml
Pinot Grigio
A dry, floral Pinot Grigio with just a whisper of sweet honeysuckle on your taste buds. Pear, white nectarine and Granny Smith apple are balanced with spring floral aromas and a clean minerality. A delight on its own, its refreshing acidity also pairs exceptionally well with fresh Atlantic Canadian seafood, sushi, poultry, and crisp summer salads.
12% alc./vol
Grand Banker Pinot Grigio 1.5L
Grand Banker Pinot Grigio 3L
Grand Banker Pinot Grigio 750ml
Rosé
A delightfully pink-hued wine, Grand Banker Rosé is light and approachable expressing pear, strawberry and floral notes on the nose. It is refreshing and dry on the palate with pear and floral notes leading to a soft finish. Served chilled, it's a great choice for any occasion. Enjoy this Rosé on its own, serve it with cheese boards and lighter fare appetizers, or pair it with roasted chicken or turkey, ham or salmon.
11.5% alc./vol
Sauvignon Blanc
A distinct style of Sauvignon Blanc, this wine is influenced by a cool coastal climate which encourages herbaceous characteristics, natural acidity and minerality. Lively and aromatic with notes of kiwi and lime, the flavours have a fresh, crisp, zesty expression which is lighter and more subtle than riper examples of this grape variety. Enjoy with grilled fish and spring vegetables.
12.5% alc./vol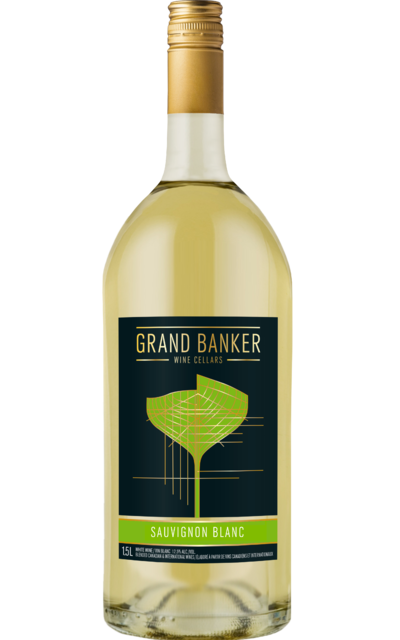 Grand Banker Sauvignon Blanc 1.5L
Grand Banker Sauvignon Blanc 3L
Grand Banker Sauvignon Blanc 750ml
Shiraz Cabernet
A complex, medium to full-bodied wine, this Shiraz/Cabernet blend is ripe with deep fruit-driven aromatics. Blackberry and plum are balanced by a touch of vanilla oak, finishing with dark cherry and black pepper notes. A delight on its own—the bold tannins and savoury character also pair well with hearty beef dishes, gourmet burgers, and grilled steak as well as pasta, cured meats, sharp cheeses, and chocolate.
13% alc./vol
Grand Banker Shiraz Cabernet 1.5L
Grand Banker Shiraz Cabernet 3L
Grand Banker Shiraz Cabernet 750ml