Pairings
Bacon Jam Burger

What is better than a nice juicy burger with an equally juicy red wine to hit the spot? The Bacon Jam Burger inspired by Paddy's Brew Pub in Wolfville is a fantastic version with a creative twist. A grass-fed beef beef patty is topped with caramelized bacon and onions. Jalapeño Havarti provides a hint of heat and crispy onions add a nice textural component.

Bacon Jam
• 1 1/2 lbs Bacon
• 4 large onions sliced
• 1 tsp minced garlic
• 1/4 cup brown sugar
• 1/4 cup maple syrup
• 1 TBS dijon mustard
• 2 TBS vinegar
• 1/2 cup water

Burger
​• Local grass-fed beef burger patties
​• Sesame burger buns
• Bacon jam
• Jalepeño Havarti sliced
• Crispy onions
• Lettuce
• Tomato sliced

To prepare Bacon Jam, place bacon in a large, heavy-bottomed pot and cook over medium heat until bacon is crispy and the rendered fat is foaming, about 10 minutes.

Pour bacon and rendered fat into a strainer placed over a bowl to drain fat. When fat is drained and bacon is cool enough to handle, remove bacon to a cutting board and chop.

Return pot to medium heat; drizzle 2 teaspoons of reserved bacon fat into pan. Sauté garlic and onions until soft and translucent, 7 to 10 minutes.

Stir brown sugar, maple syrup, dijon and vinegar into onion mixture; add bacon. Stir water into bacon mixture and cook until jam is a brick-brown bacon color and has a jam consistency, 10 to 15 minutes.

Grill burgers to desired wellness. Grill buns face down.

Assemble all ingredients and serve right away.
East Coast Hot Pot

East Coast Hot Pot is made with shrimp, scallops, mussels, salmon & haddock in a creamy coconut curry sauce and served over a bed of basmati rice. Make it yourself this weekend to share with family and friends.

Coconut Curry Sauce
• 2 cans coconut milk (403 ml)
• ¼ C tomato paste
• 2 oz pureed ginger
• 1 oz pureed garlic
• ¼ bottle curry paste
• 1/3 C brown sugar
• ½ Tbsp curry powder
• ½ Tbsp paprika
• cornstarch

Seafood
• 6 oz salmon, cubed
• 4 dozen mussels (live, in shell)
• 6 oz haddock cubed
• 8 large shrimp
• 8 large scallops

To Garnish and Plate
• chili flakes to taste
• hot sauce to taste
• fresh parsley
• basmati rice

Sautee garlic and ginger in large skillet over medium heat without browning.

Add all remaining coconut curry sauce ingredients and bring to a simmer.

Simmer until mix begins to thicken slightly.

Remove from heat and puree with blender.

Return coconut curry sauce to skillet, add seafood and simmer together until mussels open (about 8 mins).

Reach desired thickness by adding a cornstarch slurry (equal parts cornstarch and cold water).

Season to desired level of spice with chili flakes and hot sauce.

Serve on a bed of basmati rice and garnished with parsley and hot sauce.
Herbed Chickpea and Avocado Hummus

This fresh and easy Herbed Chickpea and Avocado Hummus recipe is perfect for serving as a pre-dinner snack while you're preparing the main course for your guests, as a focal point in a fresh, light lunch or to rustle up as an evening of apps for watching the big game. You'll love the creamy texture and citrus notes!

Hummus:
• 1 2.6L can chickpeas
• 1/4 cup fresh lemon juice
• 1/4 cup good olive oil
• 1 tbsp cracked pepper
• 1tbsp sea salt
• 1.5 tbsp smoked paprika
• 1/4 tsp lemon zest
• 1 dash of cayenne pepper

Topping:
• 6 whole avocados diced
• 2 large tomatoes diced
• 1/2 cup feta cheese crumbled
• 1/4 cup fresh mint
• 1 tbsp fresh lemon juice
• Salt and pepper to taste

Hummus:
Puree all in food processor.
Add 8 whole avocados and mash together.

Topping:
Mix well together in a mixing bowl.

Top hummus with one heaping tablespoon of topping mix.

Garnish with Tahini, fresh lemon wedge and a sprig of mint. Enjoy!

Beef, Bacon & Bleu Appetizer

Chef Dwayne MacLeod's Beef, Bacon, & Bleu is the perfect appetizer combining juicy beef, salty bacon, and creamy blue cheese. Double-dip by starting your night off with this pairing and end it with the same wine and a lovely cheese plate, and experience the untapped versatility this wine has for your collection.

Port Reduction
2 oz Port Wine
1 oz White Sugar
2 oz Corn Syrup
⅛ oz Cracked Back Pepper

Balsamic Reduction
3½ oz Balsamic Vinegar
¾ oz Maple Syrup

​Beef, Bacon & Bleu*
1 oz Tenderloin
¼ oz Blue cheese
½ Bacon slice
*This is for one portion—make as many as you want

Port Reduction Method: Reduce by half and chill.

Balsamic Reduction Method: Reduce till it coats a back of a cold spoon and let chill.

​Beef, Bacon & Bleu Method: Cut the tenderloin in slices ¼ inch tick and 2" wide. Place on top of the bacon and then put the blue cheese on top of the beef. Roll and skewer till ready to cook. To cook, bake them in the oven till the bacon is golden brown at a temperature of 375 degrees. To plate place your beef Bacon & Bleu and drizzle your port reduction and balsamic reduction over and finish with a little coarse sea salt and enjoy.
Nova Scotia Cold Water Shrimp Dip

Looking for something as pink and as delicious to pair with Rosé? We have it! Crafted from simple but quality ingredients, this dish created by Chef Martin Ruiz Salvador will impress. Give this creative shrimp dish a try and see for yourself why going pink is the 'IT' thing.

• 8 oz Cream cheese
• 10 oz NS shrimp
• 1 tsp Tabasco
• 5 gm Paprika
• 4 stalks Green onion
• Ground black pepper

Cook the shrimp and let cool. Preheat oven to 350˚

In a food processor, pulse together 5 oz shrimp (reserve the remaining 5 oz) and cream cheese.

Tip: If you do not have a food processor, coarsely chop the 5 oz of shrimp. In a mixer beat cream cheese to soften and then mix shrimp and cream cheese together.

Transfer shrimp and cream cheese mixture to a bowl.

Once the mixture is in the bowl, chop green onion and add to the mixture. Mix in remaining 5 oz of whole shrimp. Mix in tabasco, paprika and black pepper to taste.

Spoon mixture into a baking dish, bake for 25-30 minutes at 350˚ or until golden brown and heated through.

Serve with toasted bread.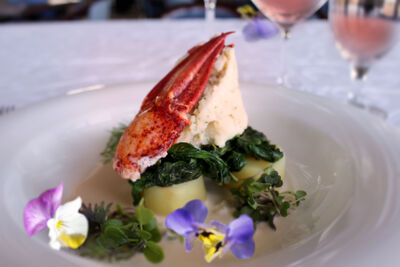 Digby Scallop & Northumberland Lobster Terrine

Chef Shane of Fox Harb'r Resort prepared this simple yet elegant recipe to pair with Selkie Rosé.

Terrine:
• 2 x 1½ lb Lobsters from Chase's Lobster Pound
• 400 g Fresh sustainable Digby scallops
• 120 mL heavy whipping cream
• 3 sprigs of dill, finely chopped
• 5 chives, finely chopped
• Salt & pepper

Accompaniments:
• 2 large Yukon gold potatoes
• 600 g baby spinach
• 150 mL heavy cream
• 200 mL fish stock
• 1 L chicken stock
• 2 vanilla bean pods split in half lengthwise
• 100 mL white wine
• 1 shallot, finely chopped
• 300 g butter, unsalted and cubed into ½ inch cubes at room temperature
• Salt & pepper

To prepare the terrine. Cook the two lobsters in a large pot of salted water for 5 minutes just until they are cooked enough to remove from the shell. Dip in ice water after to shock cool them. De shell and chop all the tail, knuckle and internal meat into ½ in cubes. Reserve claws to the side. In a food processor, place the scallops and puree until smooth. Add cream, herbs and season. Remove Scallop puree and fold in chopped up lobster meat in a stainless steel bowl. Lay out 20" of saran wrap on a table and place the scallop and lobster mix in a line in the middle of the saran about 1" thick. Fold over the saran width wise and then use the saran to roll the mixture into a log shape. Wrap this log in tin foil and seal as best you can on the ends. Just before you about to serve; poach this in seasoned water for approx 9 min on a low boil.

Cut the Yukon gold potatoes into 1" thick slices and use a 3" round cutter to make perfect silver dollar shaped discs; you will need a total of 12 discs. Place in chicken stock that has had ½ of the vanilla pod scraped into it and the pod tossed in as well. Season the chicken stock with a little salt. Summer on low heat for 10 min. Sauté ½ of the shallots on low heat until translucent then add the spinach and ½ the white wine and wilt the spinach. Add a splash of cream, salt and pepper and reserve.

For the buerre blanc, sauté the other ½ of the shallots in a heavy bottom stainless steel pot. Add 150ml of the cooking liquid for the potatoes, the fish stock, scrape the other half of the vanilla bean pod and put the paste in and simmer until reduced by ¾. Reduce heat to very low and add the butter cubes one at a time whisking constantly so the butter emulsifies. Once the last of the butter is incorporated strain and set aside.

To assemble place 3 potato discs on the bottom of the plate, place creamed spinach on top. Cut the terrine into 4 pieces and one piece on top of the spinach. Place one claw in top then drizzle the entire dish with the buerre blanc. Garnish with Fresh pansy petals to bring bright colour to the dish.